Moikka, elikkä niiku jo aikasemmasta postauksesta selvisi, niin olen pari päivää sitten kotiutunut kahen viikon vaihtari reissulta. Tapasin maailman ihanimpia ihmisiä joka puolelta maailmaa ja oli kaikin puolin huikeeta! Joka päivä sattui ja tapahtui joten varmaan parasta jos kerron päivä-päivältä. :)
Hey, so like I said in the post before, I arrived a few days ago back home from an amazing 2 week trip around Australia, together with other exchange students from all around the world. We saw and did a lot of intresting things but most of all we became a very tight group :)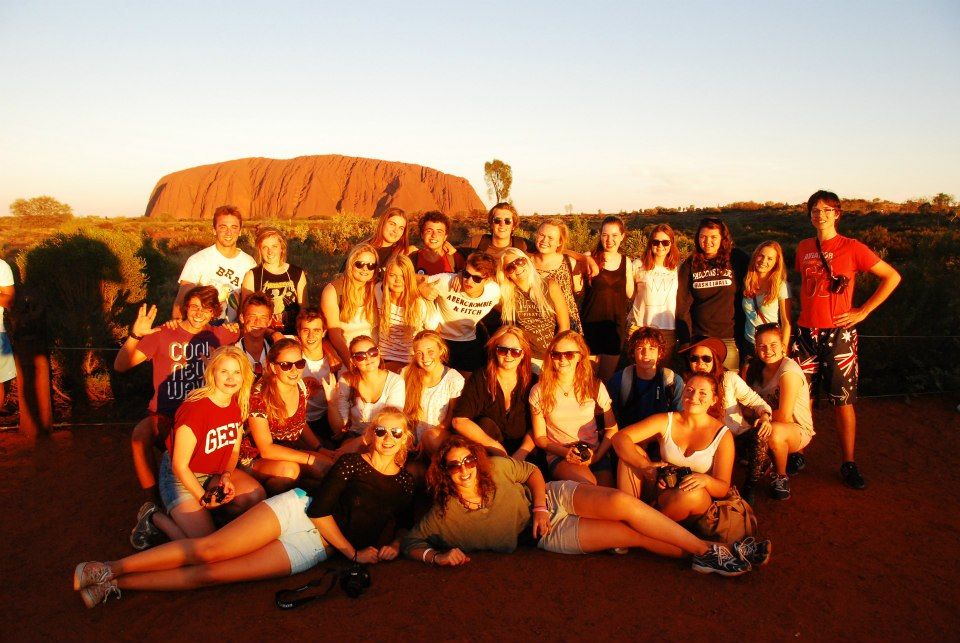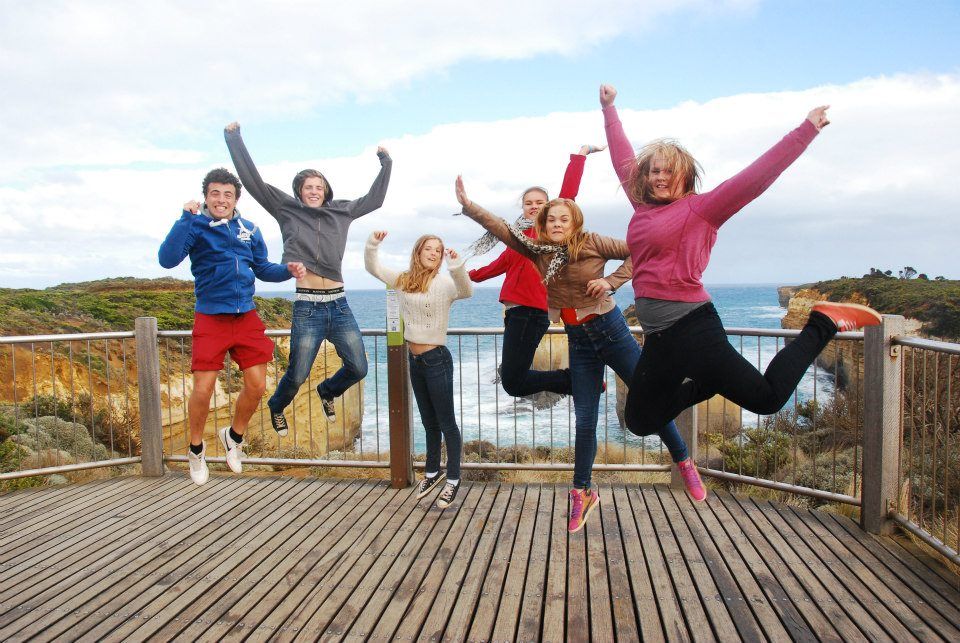 DAY 1
Aikainen herätys ja eikun lentokentälle! Missä tapasin jo osan ryhmästä, ja kans Mian ja Mariannan :)! Sieltä sitten lennettiin pienellä porukalla Alice Springsiin, ja tavattiin kaikki muutkin vaihtarit. Meitä oli yhteensä 30 + vetäijät, bussikuski ja kokki :).
Ihmisiä oli joka puolelta maailmaa (Argentiina, Canada, Ruotsi, Suomi, Liettua, Brasilia, Thaimaa, Italia, Itävalta, Sveitsi, Norja, Färsaaret, Alankomaat ja Saksa) ja meitä suomalaisia aika monta!
Suunnattiinkin sitten bussilla "keskustaan", mä ja pari muuta käytiin Subilla sekä pikku kaupunki kierroksella. Saavuttiinkiin seuraavaksi ensimmäiselle leirintä alueelle. Mehän siis nukuttiin teltoissa melkein kaikki yöt, ja mun teltta kaverina oli kukas muukaan kuin Mia
♥
Kyllä siinä aika monta kertaa kiroiltiin ku piti aina ite pakata ja pistää teltta pystyyn ja aina jouduttiin kysyy apuu ku jossain kohtaa tunaroitiin.
It was an early morning, due to the early flight to Alice Springs! At Sydney airport I met a few others and then the rest of the group at our destination. There was people from all around the world including; Finland, Sweden, Norway, The faroe Islands, Argentina, Canada, Lithuania, Brasil, Thailand, Italy, Austria, Switzerland, Germany and the Netherlands.
On Sunday we had a little free time in town, and we drove to our camping spot and experienced our first night in our tents. And my tent buddy was who else but Mia
♥
DAY 2
Oli aikainen herätys (niinkuin jokaisena aamuna aina oli), ja ajettiin nappasemaan parit kuvat Alice Springsin kyltistä, mentiin kans sellaseen näköala paikkaan missä pystyi näkemään koko Alice Springsin. Käytin School of Airessa, joka on siis koulu mitä lapset käy skypen ja ennen vanhaa radion kautta. Koska sattuvat asumaan niin kaukana kaikesta. Vierailtiin Reptile Centerissa, missä saatiin pitää erillaisia liskoija päälläämme ja myöskin iso pyytton käärme :D.
Krokotiilikin tuli bongattua! Saatiin taas vähän vapaa aikaa kaupungin kiertelyyn, ja illemmalla kävästiin toista kertaa siellä näköala paikassa ja käytiin katsomassa Diggeridoo show! Joka oli kyllä vähä erikoinen..
First we drove to the "Alice springs sign", to take some photos. This day we went twice to a lookout spot in the middle of Alice springs, first at day time and then later when it was already dark. We visited the School of air, a school where the kids use Skype for their lessons, due to living so far away from everything. Second the reptile center where we got to hold snakes and lizards (and kiss them!). And I even saw a crocodile!
Again there was some free time in the town and then later we went to see a Diggerdoo light show..which was pretty intresting (and kinda weird).


DAY 3
Neljältä aamulla oli herätys!! Ja nähtiin auringon nousukin... Aijettiin ihan mukava matka seuraavaan leiriintymis keskukseen Kings Canyoniin :) Ja samana päivänä kiivettiinkin se, 4,5 tuntia kesti ja oli kyllä aika rankkaa ja ihan hirveen kuuma. Mutta oli se sen arvoista. Illemalla mä ja pari muuta tytsyä lähettiinkin helikopteri aijelulle!! Se oli mun ihan eka kerta ja aika lyhyt lento mutta todellakin rahan arvoinen, me lennettiin vieläpä ilman mitään ovia :D Tykkäsin kovasti. Illalla sitten koko ryhmä kokoontu makaamaan maahan ja katselemaan tähtiä ja vastailemaan pieneen visailuun, se oli musta todella hyvä päätös kivalle päivälle. Mä ja Mia kans vähän pimahdettiin ja tanssittiin ympäri telttoija Rölli laulua kailottaen :D
We had to wake up at 4am..(well at least we got to se the pretty sunrise) and started driving towards Kings Canyon! This very same day we all climbed Kings canyon as well, and it took us 4.5 hours, but it sure was worth it!
Later me and some other girls decided to go on a helicopter ride, it was my and the others first time ever!! It was pretty expensive and not such a long ride but totally worh every penny, also the fact that we did it without any doors made it even more exciting :D
Later me and Mia got a bit cray cray, singing and dancing around the tent. The day ended with everyone lying down on the ground together and watching the starts, answering to some quiz questions, perfect ending for a good day!
DAY 4
Keskiviikkona nähtiin Kata tjuta! Joka on vähän niinkuin Uluru mutta vähemmän tunnettu, ja musta melkee kivempi. Se on isompi ja kuhmuraisempi.
Käveltiin siellä sen luona ja sinne kivien väliin, nähtiin se vähän kauempaa ja myös sitten jäätin seurailemaan auringonlasku milloin se vaihtaa väriä! Sinä samaisena aamuna kuiteskin piti taas suunnata uudelle camping alueelle ja matkan varrella tuli nähtyä Mt. Connor, suola järvi sekä pari hassua kahvilaa.
We saw Kata tjuta! It's a bit like Uluru but less known, and I almost liked it a bit more. We walked around and between the rocks and went to a look out to see the sunset when it changed color! On our way there again we had to drive to another camping site and on the way we saw Mt. Connor and a salt lake and some intresting little cafes.
DAY 5
Giacomon 18 vuotis synttärit :)! Tää päivä oli pelkkää Ulurua :D Käveltiin ympäri sitä moneen otteeseen, käytiin kulttuuri keskuksessa ja osa ihmisistä kiipeski sen. Mä päätin etten tee sitä koska se on kuulema todella loukkaavaa Aborginilaisia kohtaan ku se on heidän kaikista pyhin paikka. Taas nähtiin kans sitten auringonlasku, ja mä melkein hukkasin mun puhelimen...
Giacomo's 18th birthday! :) This day consisted of seeing Uluru, we walked around the "best spots" of it, and most of the group also climbed it. Me and a few others decided not to though, because apperently it is really unrespectful towards the aborginals, this being their most sacred place. I also almost lost my phone this day...
DAY 6
Ylitettiin Northern territoryn raja South Australiaan! Taas tuli paljon aikaa vietettyä bussissa, ja aijettiin Cooper Pedyyn. Hyvin kuuluisa opaali kaivos kaupunki. Missä monet elokuvat on filmattu. Mekin sitten yhen elokuvan inspiroimana pidettiin illalla drag queen show :D Eli jaettiin koko porukka kolmeen ryhmään, jokainen ryhmä sai kolme jätkää ketkä piti sit tehä naisten näköisiksi, keksiä heille nimet, opetella miten kävellä naisellisesti, "kehittää joku persoona" ja he myös joutuivat vastailemaan kysymyksiin tuomareilta. Ja yks mun "tytöistä" voitti!! :) Naurettiin kyllä niin paljon että mahaan sattui.
Cooper peddyssä on siis kaikki meilkein maan alla, siellä mekin nukuttiin! Ja se on ihan tavallista näille asukkaille. Mä kans ostin itselleni Opaali kaulakorun ja sit illalla käytiin kaikki yhdessä pizzalla.
Good bye Northern territory, and hello South Australia!
A lot of time spending in the bus..once again. We crossed the border to South Australia and drove all the way to Cooper Pedy. A famous opal mining town. A place where lot of movies have been filmed and we also watched one of them.
Inspired by the movie we had then a dragqueen show, dividing us into 3 groups, and every group had 3 guys they had to dress up as girls. You had to come up with names, personalities, walking styles and they had to answer questions from the judges. And in the end the 3 best places were told. One of my "girls" won!!
It was one of the funnyest things ever. We slept underground and saw a little tour around the town. In this town almost everything is in fact underground. I bought an opal necklace to myself and for the evening we went all for pizza!
Ociana/Jacopo (the winner), Shaniqua/Giacomo, Luna/Gonzalo